We compare Halo Collar VS SpotOn Virtual Fence to help you decide if a collar is right for you and your dog. For the past decade, pet owners have used electronic collars to train their pets. While these devices can yield great results, they also come with risks.
The emotional unrest that comes with a missing pet for most dog owners and lovers can be quite unbearable. Even the stress of locating its whereabouts can be discouraging.
But with the help of GPS dog fences, dog owners have found peace and can safely contain their dogs. Two of those GPS dog fences will be discussed today and also compared so we can know the best.
Here are some of our favorite dog collars under budget:
Last update on 2022-07-30 / Affiliate links / Images from Amazon Product Advertising API
Halo Dog Collar Review
The Halo Dog Collar has made its way to the top best dog collars in 2022. It is packaged with a lot of features to provide you with peaceful coexistence with your furry buddy. Powered by a strong average of 12 hours lasting battery, the collar keeps track of your dog for long hours as far as it is properly charged.
The collar is not only meant for owners who want to contain their dogs but also for those who want to focus on boundary training their dogs. It comes with a 21 training program founded by one of the best dog training experts by the name Cesar Milan. This program does not only teach your dog to adapt to the system outdoor but also indoors.
The halo collar allows you to know the status of your dog even before it leaves its boundary. This it does by alerting you when your dog is about 10 to 15 minutes' feet before the boundary. It comes combined with the best features a dog owner could ever ask for.
Ranging from the GPS tracker to the activity tracker and to the smart fence technology which allows you to create more virtual fences without stress. Its accuracy is very impressive. This is because it is built with geolocation technology which is way more accurate than a smartphone.
Features
Warranty: The halo Collar is backed with a one-year limited warranty.
IP-67 Water resistant: this collar comes with a high-quality waterproof feature.
Battery life: the collar battery can last for as long as 10 to 14 hours after a single charge.
Halo App: the halo mobile app allows you to create up to 20 virtual fences just with a click. These fences can also be formed by simply walking the boundary.
Dog compatibility: the collar can size dogs up to 20 pounds and with neck size of 11 inches. It is also suitable for dogs about 5 months old and above.
GPS and GNSS Tracker: the GPS tracker allows you to keep track of your dog's movement and helps you to easily locate him if you lose him. The GPS and GNSS systems provide accurate tracking and on-time notification when your dog is a few feet away from the boundary.
Activity tracker: this collar is designed with a built-in tracker that keeps a tab on all the activities, walks, and runs your dog must have engaged in including the time it spent in action and how long it took to rest.
3 correction levels: the collar can be customized to provide any type of feedback or correction when your dog is out of its boundary. You can choose to set the correction to be vibration, beep, or static.
Comes with: a 21 days training program by Cesar Millan. The manufacturers of the Halo collar joined forces with Cesar Milan to provide dog owners instructions on how to train their dogs effectively. This training method has been entitled as one of the safest and efficient methods for training your dog.
Pros And Cons
Pros:
Durable and lightweight

Uses Bluetooth, GPS, WiFi, and LTE

Wireless system

Long-lasting battery life

Ip-67 Water-resistant rating

Offers the best and safest training guide

Can accommodate up to 20 wireless fences
Cons:
Quite expensive

Requires good internet connection to function properly

Might not size small dogs

Requires subscription

Customer service rating is not so impressive

Delayed follow up and feedback alerts
Related Guide: Dogtra Pathfinder VS Garmin Alpha 100
SpotOn Dog Fence Review
The SpotOn fence is also one of the best dog fences. It is a very advanced dog fence that keeps your dog secured and you with the peace of mind you deserve. It hardly has any bad sides, well apart from its price. It is built with a GPS, GLONASS, and Galileo (3-point) navigation system which keeps it constantly connected to multiple satellites, therefore, providing an accurate location of your dog.
The battery is another good feature of this collar. It lasts for so long after a single charge that you can let your guard down without worrying about the battery getting low. Just as long you are sure that it is fully charged.
The SpotOn fence allows you to build up to 1000 virtual fences of any size and shape. These fences work individually and do not affect the other. The use of this collar is not limited to your yard alone, it can be used on mountains, for hikes, hunting, etc. It has been engineered with all the features that make it very reliable even in the densest places.
Features
Warranty: The SpotOn fence is backed up with a 1-year warranty.
Dog compatibility: the collar is built mainly for active dogs. It can also be adjusted to fit large dogs with neck sizes of 17 inches to 24 inches and small neck sizes of 13 inches to 17 inches
IP67 Water Resistance: collar can withstand the effects of water.
Forest mode: this allows you to increase the GPS sensitivity if you find yourself in an area with a poor signal. It allows you to locate your dog even when the trees are crowded.
Battery: for every single charge, the collar battery can last for 20 to 24 hours. It works for long hours without the worry of a low battery. You can keep up with this by charging it at night after removing it from your dog's neck and start the next day with a fully charged collar.
Comes with: 1 SpotOn collar, Training target & stakes, 50 training flags, 2 sets of static contact points, Static contact point tester/insertion tool, 1 wall charger, 1 USB cable, and 1 Quick Start Guide.
Pros And Cons
Pros:
Easy to use and install

Easy to adjust

Lightweight

No wires to bury or work with

Durable and comfortable for your dog to wear

Long-lasting battery life

Flexible and accurate

Can accommodate up to 1000 fences
Cons:
Halo Collar VS SpotOn Virtual Fence – Which One is The Winner?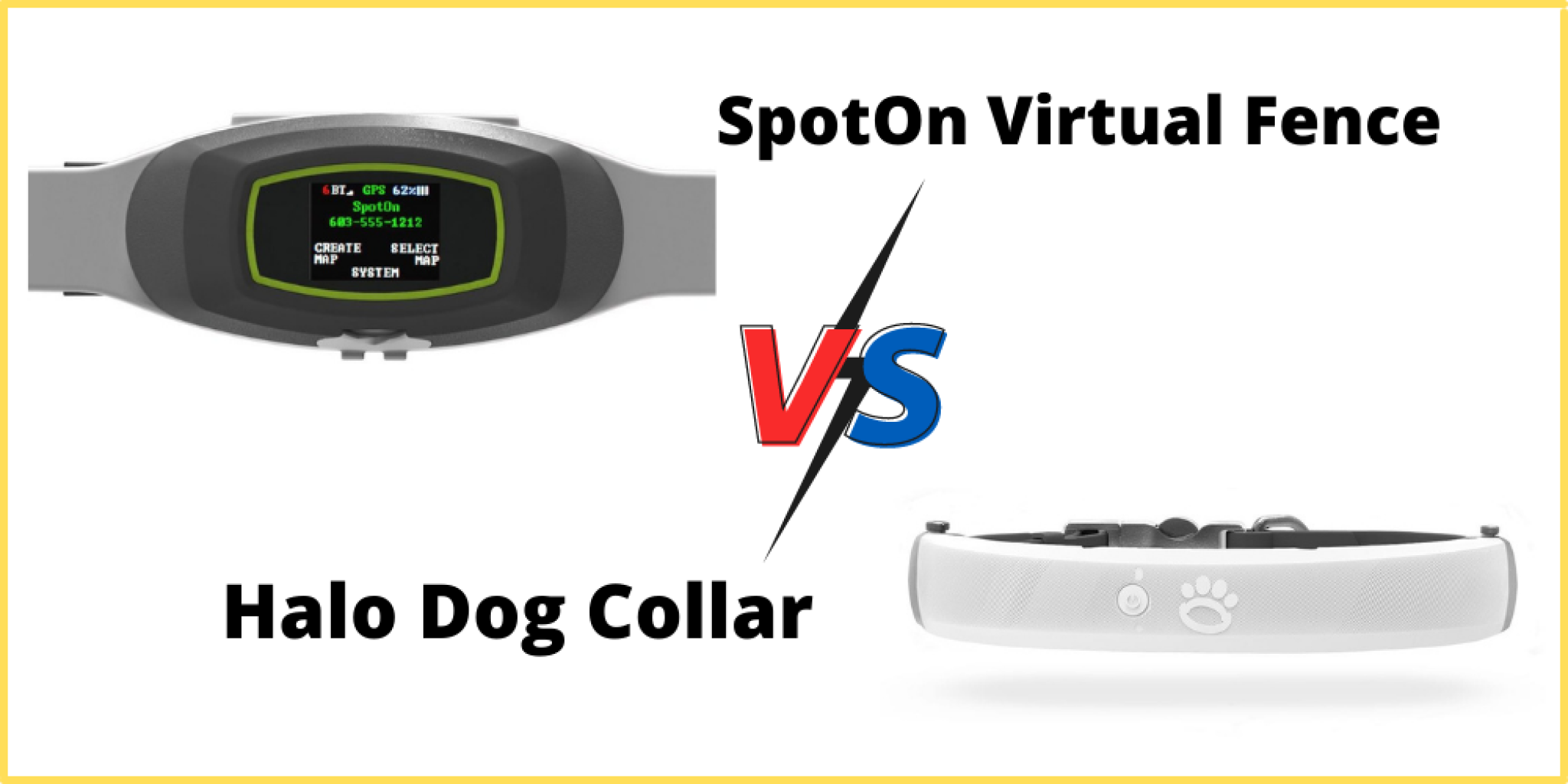 Halo collar allows you to build up to 20 virtual fences while SpotOn allows you to build up to 1000 virtual fences. The fences of the former affect each other because they get deactivated together while that of the latter can be deactivated and activated individually.
The halo collar is connected with multiple satellite constellations and sends updates of your dog's location every 15 seconds. While the SpotOn collar is connected with a three-point satellite navigation system which is more advanced than that of the halo collar. It sends updates on your dog's location every 6 seconds, unlike the halo collar.
While the antenna of the halo collar is located in front of the dog, that of the SpotOn collar is located at the back. All these combine to make the SpotOn collar more accurate than the Halo collar.
The SpotOn battery lasts up to 20 to 24 hours for every single charge while the Halo battery lasts for 10 to 14.
All these and more features are engineered in these fences to make better the other as well provide you with the service you need.
If we choose to put prices aside, the SpotOn fence wins. It is built with more advanced technology and its accuracy is the best, more than the halo collar. Not to mention the real and on-time feature which delivers faster than the halo fence.
Frequently Asked Questions
Are Halo dog collars good?
The Halo collar is a great pick, one of the best choices a dog owner could have.
Does the halo collar shock the dog?
The halo collar comes with three customizable correction levels, which include Sounds, vibration, and static. It allows you to correct your dog with any of the feedbacks. The static shock delivered by the collar when your dog goes out of its boundary can merely be referred to as a shock.
The word shock here might sound hurtful but it is very minimal and causes little or no harm to your dog. Should in case you do not want to correct your dog with the static level, you can choose to use vibration feedback or sound feedback.
Fortunately, you do not have to think so hard about that. This is because halo collar comes with a training program that would help you select the best option for your dog. But yeah, Halo collar is a shock collar just not so much.
How SpotOn virtual fence work?
Creating the SpotOn virtual fence is very easy. It is as simple as walking down the perimeter of your choice with the collar in hand while pressing down a button to save the perimeter as the boundary.
When you switch on the collar, there will be an invisible barrier around the perimeter you have walked. The collar sends you updates on where your dog is and what it is doing once it is connected to the cellular. It also beeps to warn your dog that it is close to the boundary and a mild static shock when it goes further to cross the boundary.
Does halo collar have a monthly fee?
Yes, the halo collar comes with monthly fees. To enjoy the full service the collar has to offer, you need to opt into any of the subscription plans. Subscribing provides you with more services than not subscribing. The basic plan allows you to build up to 20 virtual fences in just one click or by walking through the boundary.
It also provides you with most of the services you need so you might not need to subscribe to bigger plans. Subscribing to the collar plans might provide you with 6 months free subscription. The subscriptions are basic plan, silver plan, and gold plan.
How accurate is the SpotOn fence?
SpotOn fence is almost the most accurate dog fence in the history of wireless GPS dog fences. It is connected to a three points navigation system satellite that tracks your dog and gives you an accurate reading on the location of your dog.
Its antenna which carries the signal is so powerful that it can ignore buildings or trees trying to block the signal. It is also located in a part of the collar where the body of the dog can not block or cause the signal to fluctuate.
Conclusion:
The technological advancement and innovation behind the creation of the halo collar and SpotOn collar are very amazing. It is even hard to say which of them is the best. These collars do not only make building a fence sound so easy but also make the act so easy.
Imagine building a fence by just walking around the perimeter while pressing down the save button instead of burying wires or hitting nails into wood to form a fence. With any of those collars, building fences have never been easier. Both collars allow you to set the boundary to be of any shape or size.
While the SpotOn collar is advanced but very expensive, the halo collar provides everything its competition does a teeny-weeny less but is very affordable. So if you are looking to get an affordable yet effective fence, Halo is for you. But if you are ready to go all-in, affordability aside, then the SpotOn is for you.