A good set of teeth are an important part of every living mammal on this planet, but it's no surprise that some of these living creatures might end up losing them one way or another, the basic reasons behind this could be tooth decay and infection or an illness. Human's most loyal companion is a part of this too, they might end up losing their teeth and worry their human counterparts.
The human will have a rush of different questions run down his mind. Luckily there isn't a lot to worry about as those set of questions will be answered soon. Firstly, pre-dental care is an important factor that will help your dog have a good and healthy set of teeth as well as a good breath which won't bother you if the dog decides to smother you with its love.
Regardless of the care, the dog could end up losing its teeth due to aging, which might be a painful process, especially if the teeth are infected, although once it carries itself through that process you could take some simple steps to help maintain its diet and happy lifestyle and make it so that it doesn't feel unhappy in any way.
How to Feed Your Small Dog After Losing Teeth?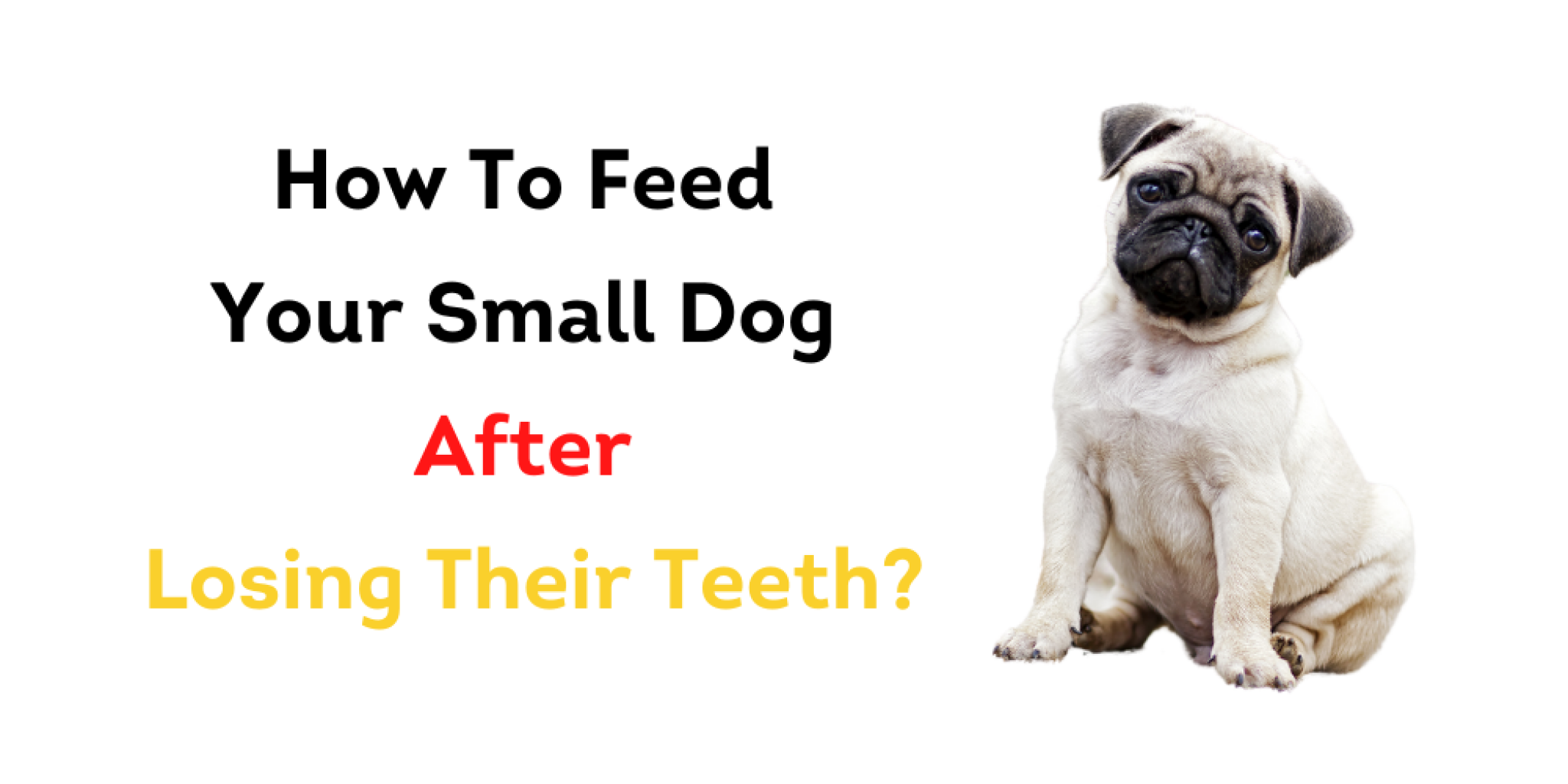 Feeding your small toothless dog can feel like a hassle but in reality, it's a thing that is easy to leap over, either due to poor dental hygiene or due to some other illness a small dog might end up losing its teeth. Fear not though, the diet should remain the same and you should feed your dog almost the same nutrition for its growth and health.
Their diet will be determined by their size, age, and their activity level. This means around a basic 2 meal a day or more depending on the factors stated before. It might be tempting to feed your dog different feed or little snacks when it's being needy but caution is recommended as all food might not suit a small toothless dog. There are a few easy methods that a pet owner can follow;
1. Mashed Up
Your dog will not be able to eat hard dry dog food anymore without its teeth, so the best way is to make kibble and add warm water to it partially until its soft and then mash it up with a spoon or fork and let your small dog eat it all up without any problem. If you're going for a canned food then try getting a good branded tin food that has mashable content in it. Some raw diet food can be useful as it will help deliver all the nutrients needed for your dog, although they might not be as easily chewable for a small dog.
2. Homemade Diet
Another easy method to feed a small toothless canine is planning and readying a meal by yourself at home, you would need a blender and a basic set of items such as rice, chicken, veggies, or eggs. This is a safer method as the ingredients would be handpicked by you but could be a bit irritating to do daily. You could make a bigger batch at once and use it over time.
Dog Bowls for Dogs with No Teeth (Recommend)
It won't be a surprise that your dog will end up making a mess while eating wet or mashed food without teeth. It can get a bit tedious to have to clean the bowl and its surroundings every day more than once. Some simple ways could help you out with this problem like putting a towel or a cloth around its bowl and when the dog is done eating you could just put the towel or cloth in the washing machine.
1. INDUSTRIPET Lickimat Playdate Tuff Red
Last update on 2023-03-22 / Affiliate links / Images from Amazon Product Advertising API
As a recommendation, I would suggest a Lickimat (very useful for raw eating) for your toothless dog, you could easily pour the wet or mashed up food on the mat for your dog to lick clean. It an easier way for a toothless dog to eat and a natural way as well. The dog would get its needed nutrition and it will be a fun activity too.
2. PETish Spaniel Bowl
Last update on 2023-03-22 / Affiliate links / Images from Amazon Product Advertising API
If a lickimat doesn't seem suitable, there are other recommended bowls too such as the PETish Spaniel bowl. Although it's a bowl made for dogs with long dangling ears ut its deep shape could help with suppressing the mess made by a toothless dog eating wet or mashed food, as it will have fewer chances to fall off through its sides.
3. Petmate No Spill Bowl
Last update on 2023-03-22 / Affiliate links / Images from Amazon Product Advertising API
Another bowl friendly towards the toothless dog is the Petmate No Spill bowl, it has a safe border around it with a hollowed shape in the middle, it will nullify the mess made by the dog and can be helpful during traveling too. Although on the other hand, it won't be as easy for the dog to eat from it as it will be with the other bowls and mats stated before.
What Can I Feed my Dog with Missing Teeth?
If your dog has some missing teeth, which is a normal thing to face. A dog could end up losing its teeth or some of its teeth due to various reasons but that shouldn't let you hinder its growth. As diet is an essential part of every living thing may they be toothless or not, nutrition is important for everyone's body. There's no need to worry though because there are various options that you could choose from to help out your dog fill its belly.
As mentioned before you could add warm water to normal kibbles, your dog was eating before losing some or all of its teeth, and just mash them and serve it up to them to enjoy. Or another method mentioned before was cooking up your recipe and using a blender and feeding it to your dog.
Although if these methods are monotonous to you there are a lot of great options of dog food to choose from, which you can just buy and let your dog clean it up without any problems of chewing any hard or dry chunks.
Your goal is to serve some soft, gooey meal to your dog so it can eat it without any hindrances, and here are some options of such dog foods to choose from.
1. Pedigree Chopped Wet Dog Food:
Last update on 2023-03-22 / Affiliate links / Images from Amazon Product Advertising API
Covering a different set of flavors and helping dogs with less or no teeth this tin can dog food could still pack a punch of all the essential nutrients your little doggy needs to stay healthy, it already has a soft texture which means it won't be a problem to chew or eat this. Plus, you could also mix this with some mashed-up kibbles to make it more fun to eat for your dog.
2. Blue Buffalo Dog Treats
Last update on 2023-03-22 / Affiliate links / Images from Amazon Product Advertising API
Some dogs get that extra kick from salmon because of its flavor, these dog treats are edible and mushy in texture which is perfect for a toothless dog. It's made from high-quality salmon and packs a lot of protein with omega-3 and omega-6 acids, so you know you will be treating your doggy with a good healthy meal. It includes brown rice and oatmeal making it way easier for digestion and consumption.
Do Dogs Stop Eating When They Lose Their Teeth?
If you have a pup and it has been with you for a few months it is for sure going to go through a teething phase, during which it may be a bit irritated and cranky but a chewy toy could help the little ones a lot with that a diet of mashed up or wet feed could help its growth until it gets their teeth.
Although you may think that an older dog who loses some or all of its teeth due to some bacterial infection, poor dental health, or just through tooth decay, might end up not eating. Fortunately, that isn't true a dog might be agitated and show that it's not feeling up to the mark when it is having teeth problems, but once it goes through that phase it'll return to being all friendly and happy like it was before even if it loses its teeth.
This doesn't mean that it will stop eating or anything, as a pet owner it's concerning, and one might think that it's something to worry about, but dogs will keep on eating as long as they are easily given suitable foods to their conditions. It's better for a dog to have no teeth than to have an unhealthy and rotten set of decayed teeth.
So, do dogs stop eating when they lose their teeth? No, not at all, they will fill up their bellies but it's vital to serve them something easy to swallow without having any teeth.
What is the Best Dog Food for Dental Health?
Keeping a dog healthy and happy is a huge responsibility for the owner which can't be ignored in any circumstances. Keeping the dog active, feeding it healthy food, and making sure that it's not eating something which might deter its health.
With all of these keeping care of your dog's oral dental health is utterly important as well because a lack of oral care could lead to bad breath smell, painful mouth infections, and ultimately tooth loss as well.
Cleaning your dog's teeth, making it eat and drink clean food and water. Brushing their teeth could help prevent a lot of dental issues and it doesn't need to be done on daily basis either to keep their teeth in check. With all of these steps, some special dog food treats can help you out with your dog's dental health. Some of the best Dog foods for dental health are:
1. Hill's Science Diet Dry Dog Food
Last update on 2023-03-20 / Affiliate links / Images from Amazon Product Advertising API
This dog food will help you ensure oral care for your dog but with that, it also contains ingredients that will help in weight control, easy digestion, and skincare for your dog as well. So evidently, it's not only looking after your dog's teeth but other things too, although the kibble size is a bit bigger it can be mashed or broken dog if it's to be eaten by a smaller dog.
2. Greenies Original Teenie Natural Dental Dog Treats
Last update on 2023-03-22 / Affiliate links / Images from Amazon Product Advertising API
Another option to choose from is the "Greenies Teenie Natural Treats", this dog treat will help clean up your dog's gum and make its breath smell much better and bearable, Greenies treats are also approved by VOHC (Veterinary Oral Health Council). The shape of the treats also resembles a toothbrush which adds some aesthetic to it.
3. Hill's Prescription Diet t/d Dental Care Chicken Flavor Dry Dog Food
Last update on 2023-03-22 / Affiliate links / Images from Amazon Product Advertising API
We have one more Hill's dog treat in this list, which helps keep those teeth clean and fights off any kind of plaque, decay, or tartar buildup taking place in your dog's mouth. It will also help increase your dog's overall health.
Our opinion:
As we come to the end of this article, it's safe to say that a lot of the trouble building up in your mind for your dog is probably been answered. First and foremost, the dental health of the dog shouldn't be overlooked, from cleaning its teeth to providing it dental-friendly food and you can have a session with Aamir Iqbal at Petsbeast who helps you more about dog dental health.
Other than that, if some or all of the tooth do end up falling out or getting pulled out by a veterinary surgeon due to health issues building up in the mouth, there still not a lot of hope lost as the dog can still be fed all of its favorite treats by mashing or blending them up and then serving it in a worthy bowl or mat to eat from, without making it a lot of mess. The dog may not have its teeth but their happy smile and active behaviors will still make your day.